Ninh Binh is one of the best place you have to go when you travel Viet Nam. Ninh Bình contain not only lot of beautiful place but also the important history of Việt Nam. In this topic, we will give you some advice to explore this place.
     1. Transfer to Ninh Binh
Ninh Binh is far from Ha Noi 90km, quite easy if you Rent The Motorbike with only 2 hours follow Phap Van – Cau Gie highway otherwise you can take the bus Ha Noi-Ninh Binh pick up from your hotel in Old Quater at 8.30am, 10.00am or 16.00pm by Ha Noi Capital Travel with just only $8 to get there. Or you prefer to go there by train? It is not difficult but the price will be higher, around $19~$25/pax/way.
      2. How long should you stay in Ninh Binh?
For traveler with short vacation, just one day is fine, you can join the trip to Hoa Lu-Tam Coc-Mua Cave or Bai Dinh-Trang An- Kong Skull Island. Here is two place show the beauty of Ninh Binh. With one day, you will have the experience of sitting on a bamboo boat on the river around the mountain, overcoming the fields spread to the sky, watching the magnificent scenery of Ninh Binh from the top of Dancing Cave. Or with Buddhists coming from far away, you can not miss the largest temple of Vietnam that holds many incredible records: Bai Dinh Pagoda.
It will be lucky for the one who can spend more that 1 day to explore Ninh Binh, so 2 days 1 night for you to visit both Bai Dinh-Trang An and Hoa Lu-Tam Coc, also you can visit Cuc Phuong National Park and Thung Nham, to see how pure this area is.
      3. Where to visit in Ninh Binh?
Trang An
With an unspoiled and beautiful natural landscape, Trang An has been recognized by UNESCO as a World Natural Heritage and World Cultural Heritage. The scene here is made up of a river running through the limestone mountains, creating countless mysterious caves. You should take the bamboo boat to visit Trang An in the morning to avoid sunny.
Bai Dinh Pagoda
Bai Dinh is well-known as the biggest pagoda of Viet Nam nowaday, also keep many records of Viet Nam, South East Asia as: the biggest bronze Buddha Statue (100 tons weight), 500 Arhat Atatues 4 tons each, 2 hudge bronze bell 50 tons each….
Bai Dinh pagoda have 2 areas different, the new Bai Dinh Pagoda is covered 700 meters, the old site just only 200 meter. Recommend you take the electric car to visit the pagoda, cause from the gate get into the pagoda is around 3.5km, go on foot quite very far.
Mua Cave
The main highlight of the Mua Cave is Ngọa Long Mountain, with a daring path consisting of many steps winding from the foot of the mountain to the summit, Ngọa Long is also known as the Great Wall of Vietnam. On the top of the mountain is a winding dragon statue that looks solemn and mystery.
From the top of the mountain is a vast sky, looking down is the immense golden fields, an extremely majestic scenery but also peaceful.
Cuc Phuong National Park
Located in the heart of Tam Diep Mountains, Cuc Phuong National Park – is the first established national park in Vietnam. Beside  the rich flora and fauna ecosystem, you can also take part in many eco-tourism, recreation, adventure, research and cultural areas.
Especially if you go to Cuc Phuong National Park on the end of April – May, you will be immersed in the scene with thousands of butterflies.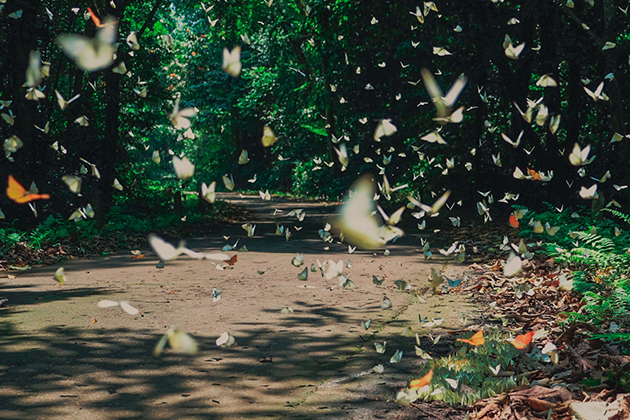 4. Famous Food
Goat meat
Free grazing on the mountains, goat meat in Ninh Binh is the best food you have to try if you have opportunity to visit. In addition, goat meat here is also processed into a lot of delicious dishes with different ways of processing such as goat roll, steamed goat, grilled goat or most famous is soy sauce goat, an extremely nutritious dish. Many people also said that goat meat can cure many diseases.
Scorched rice
This dish is also quite familiar to everyone. The taste is more like the rice snack. Arrive in Ninh Binh, you can buy scorched rice from everywhere like Bai Dinh, Tam Coc and Trang An …
Nho Quan wine
This is a special wine of Muong ethnic people in Nho Quan area. To make this wine, people will cook glutinous rice mixed with yeast that is brewed in large pots. Tempering in at least 3 months. Anyone who ever drank alcohol knew the sweet, spicy and different taste. Nho Quan wine after being handcrafted will be packed into glass bottles or earthenware and tightly closed with banana leaves for sale. You can buy some bottle of Nho Quan wine as a gift for your friend.
Hope this topic is useful !